Did you know New York City has more than 800 miles of bike routes? 
They are divided into three categories:
Bike Paths: on-street bike paths are protected from vehicular traffic by parked cars or physical barriers. Off-street bike paths exist along much of the City's waterfront and in many parks – Perfect for visitors and families.
Bike Lanes: bike lanes are painted onto the road usually next to the parking lane, and are marked with bike symbols.
Shared Lanes: used by cyclists and motorists, placed just far enough from the curb to help you avoid opening car doors.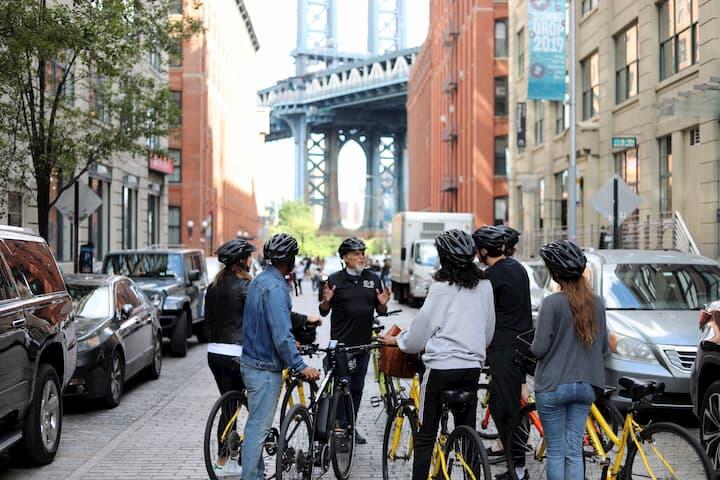 You can explore NYC by bike with your New York Pass
Riding a bike in NYC has never been easier, it's a great and healthy idea for a day out. New York Pass holders get up to 4hours of free bike rental, with locations available across Manhattan, alternatively, Pass holders can join a Bicycle Tour of Central Park or Brooklyn Bridge – All free with New York Pass.
Blazing Saddles Bike Rentals & Tours
Explore bike-friendly New York City on a scenic and historic bike ride!
Brooklyn Bridge Bike Tours and Rentals
The New York Pass grants you a FREE 2-hour guided bike tour of Brooklyn Bridge, DUMBO, and Brooklyn Bridge Park and waterfront, or a FREE 3-hour bike rental anytime during business hours
Central Park Bicycle Rentals & Tours
See more of Central Park with New York City's premier local bike rental provider Central Park Bicycle Rentals & Tours (aka Bike Rent NYC).
Central Park Sightseeing Bike Tours & Rentals
Experience the full grandeur of Central Park from a cyclist's perspective.