Rain; the burden of humanity. For millennia we've built roofs to keep it out, and created devices to keep it from touching our delicate skin. While you may be tempted to stay in when the heavens open, why let an entire weekend go to waste? Get out there and see what things there are to do in New York when it rains. Don't worry about the research; we did all that for you. Simply scroll down and learn all about the best things to do in New York when it rains!
Including:
American Museum of Natural History
Madame Tussauds New York & MARVEL Universe 4D
New York's amazing art museums
Escape Virtuality
Area 53
and more!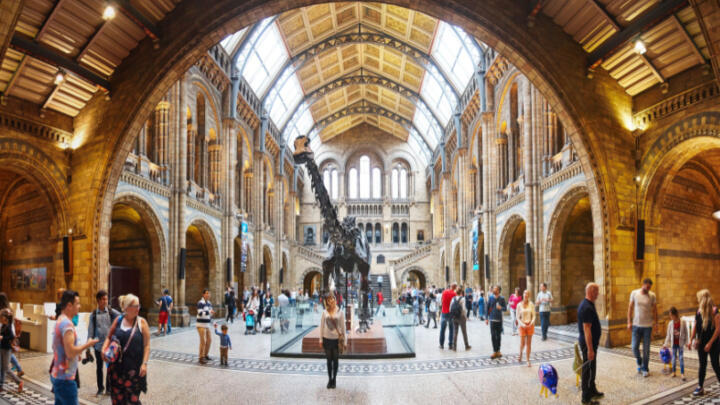 Image courtesy of Mykolastock/Shutterstock
Get historical, naturally
What better way to dodge mother nature's shower than dipping into a museum? New York's full of the beauties, but we'd recommend the American Museum of Natural History. Why? Well, because it has freaking dinosaurs. What else do you need?
The site of the famous Night at the Museum movies, inside you'll find one of the biggest collections of dinosaur bones on the planet. But of course, there's much more than just that. How does a 94-foot whale model sound? Equal parts awe-inspiring and terrifying? Absolutely. How about a giant, 2000-year-old sequoia tree? Brilliant. Why not top things off with a 563-carat sapphire named the 'Star of India'? Yes. 
All that and much more awaits you in one of the world's premier museums. So why wait? Easily one of the best things to do in New York when it rains.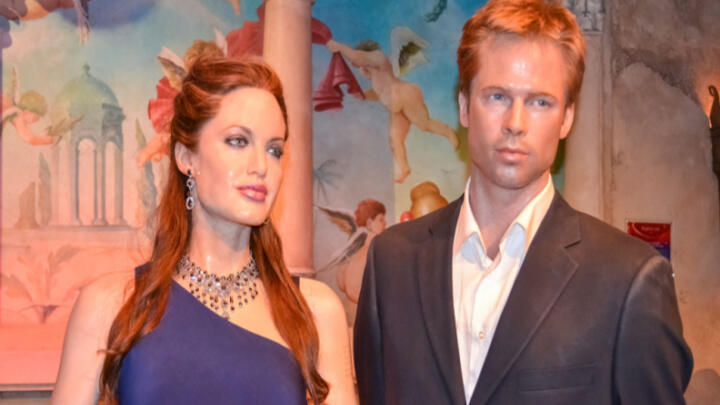 Image courtesy of Alina Zamogilnykh/Shutterstock
Rub waxy shoulders with the stars
Hollywood has become somewhat synonymous with plastic surgery. The ever-evolving need to reach perfection has resulted in generations of body augmentation. But if you think Hollywood is plastic, wait till you get a glimpse of the static stars at Madame Tussauds!
Everyone's favorite fame celebration is here, letting you snap photos with all the stars. And best of all, there won't be a streak of blur in sight! Throw gang signs with Donald Trump, hop on E.T.'s bike without his permission, and mingle with other people who do acting!
And, for you superhero fans out there, you can also attend Marvel Universe 4D, an immersive cinema experience that brings your favorite spandex-wearing heroes to life. 
And best of all, it's all inside! If it wasn't, would the famous people melt? Who knows?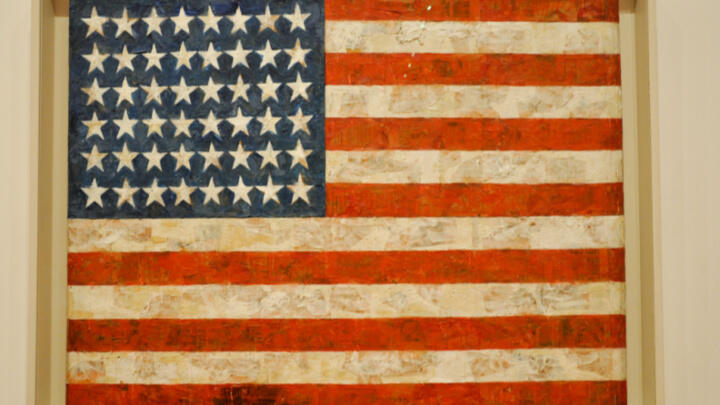 Get some much needed culture in you
Speaking of ducking the rain, why not fill your mind while doing it? We're talking art, ladies and gentlemen, and New York's got more art museums than you can shake a brush at. 
Let's start with the Museum of Modern Art — or 'MoMA', because you've got to love an acronym in this day and age. It's one of the most influential modern art museums in the world, with a fantastic collection of contemporary pieces housed within its delightful walls. See the likes of van Gogh's 'Starry Night', and Warhol's 'Soup Cans' up close. And take photos aplenty, of course. 
Or, go check out the famous Guggenheim, another brilliant collection of works from artists around the world. With big hitters like Picasso, Manet, Cézanne, Gauguin, and Renoir on show, you're bound to find something inspirational within its beautifully-designed walls. 
Or, for more modern art from more alive artists, go hide in the Whitney Museum of American Art. Focusing on active artists from the US, it helps ensure the American art scene survives and thrives throughout the years. And who knows, maybe you'll discover the next big thing there, or find your new favorite artist? 
Whichever you decide to go to, having your mind blown at one of New York's art museums is definitely one of the best things to do when it rains in the city.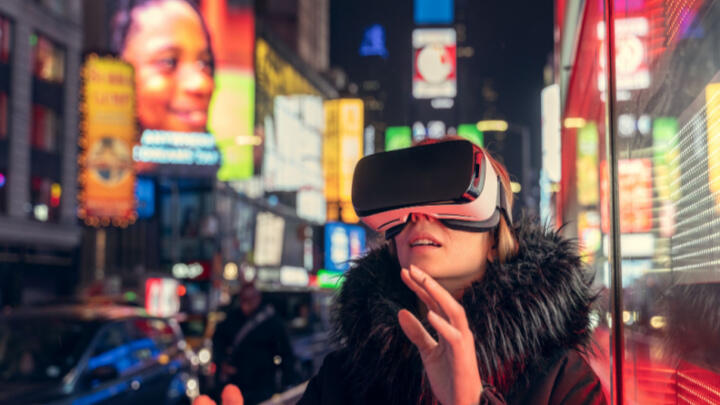 Reality, but virtually better
What better way to avoid the reality of a rainy day in New York than to escape our reality completely? Discover new, exciting realities via a funky headset at Escape Virtuality - NYC's biggest and best virtual reality fun house!
Challenge a friend, or a stranger, to a myriad of sports, activities, and other immersive experiences. Glide down a mountain on skis, or run from monsters in a haunted house. Climb a sheer cliff, jump out of a plane, or hop behind the wheel of a souped-up racecar. 
Let your imagination come to life, thanks to the movement replication of Escape Virtuality's ergonomic setup. Feel every hill, every fall, and every turn. It really has to be seen to be believed, so go and get your mind blown on the next rainy day!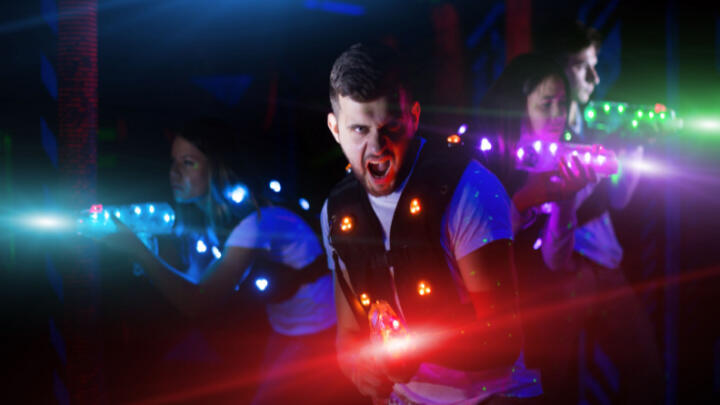 Area 51-adjacent
Sometimes, the thrill of outdoor adventure is too good to pass up. We all have to get extreme sometimes, right? But if you're averse to a little downpour, you needn't throw cold water over the idea. Instead, head to Area 53 - New York's funner, safer alternative to Nevada's secret UFO base. 
Whether you're with friends, family, or planning a date, Area 53 has a wealth of fun activities on offer. Take your chances on the ninja course, try and escape the laser maze, bomb it down slides, or go head-to-head in the Battle Beam arena (think laser tag meets foam party). All that and much more awaits you at Area 53. 
Oh, and if you're looking for some kid-free fun, they also host over 21s nights with no rascals and sight, and a packed bar to boot.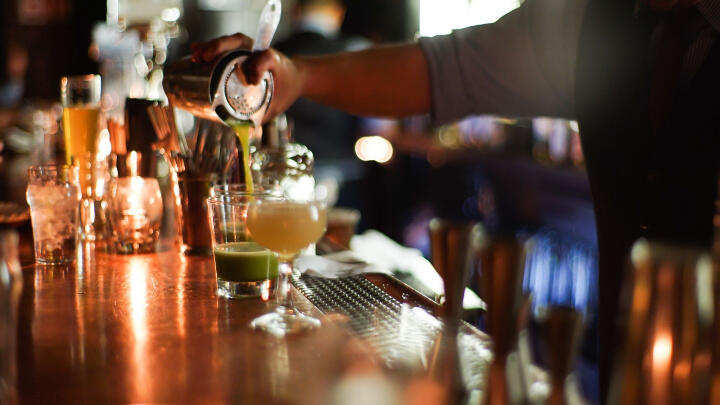 Secret drinks
Let's round off our list of the best things to do in New York when it rains with a more refreshing downpour. We're talking bars, but not just any bars. Nope, today let's talk about secret speakeasies. Like many big cities these days, New York has seen the recent craze of faux-speakeasy slash cocktail bars hit its shores. So why not duck out of the rain and dive into a drink or three? 
La Noxe is one such place, and you'll find it tucked inside the 28th street subway station. Along with its rather diverse and affordable cocktail menu, you'll find a delightfully low-key ambiance, tapas bites, and smooth tunes in the background. 
Or, head to The Little Shop in Lower Manhattan. On first glance, it looks like your average convenience store, with snacks, household items, and other necessities on offer. However, head to the back, and you'll make your way into a secret speakeasy with a brilliant drinks menu. Your discovery will be the talk of the water cooler come Monday. 
And finally, pop into Attaboy, snuggled secretly into an often-overlooked part of Eldridge Street. This little speakeasy even has merch if you want to represent, and a patio - when the weather clears up. 
And that's our list of the best things to do in New York when it rains!