Exploring one of the most iconic landmarks in the world doesn't have to mean a long trip to Liberty Island. Whether you're looking for an up-close view of the Statue of Liberty or wish to explore Ellis Island, taking a ferry from either Manhattan, NY, or Liberty State Park in Jersey City is both easy and affordable.
The cost of taking these ferries can vary depending on which route you choose; fares for adults range from $18-$27 with tickets inclusive of both stops at both islands. If visitors wish to access the Statue, additional tickets will need to be purchased - it's recommended that these are bought in advance due to high demand during peak times.
On-board visitors can expect friendly staff who are more than willing to answer any questions, restrooms, snacks/drinks kiosks and spectacular views. The ride itself typically takes between 20-30 minutes each way depending on which route you take, so if time is limited it's important to plan ahead.
Once at Liberty Island visitors can explore all that this historic landmark has to offer; various guided tours, food choices such as hot dogs or sandwiches at concession stands available onboard the ferry and even special events held seasonally such as live music performances which are free with ticket purchase! After exploring Ellis Island visitors will have more than enough time for iconic photos before heading back.
Visiting New York City? Taking the ferry to the Statue of Liberty is an absolute must! Not only does it offer unparalleled views and incredible experiences - it's also a great opportunity for some iconic pictures with Lady Liberty herself! Don't forget your camera – this is an experience not soon forgotten!
Don't worry; if you don't know what that is or where to get it from, we're going to tell you right now. Prepare yourself for the ultimate guide to taking the Statue of Liberty ferry, and what you'll find when you reach its historic shores!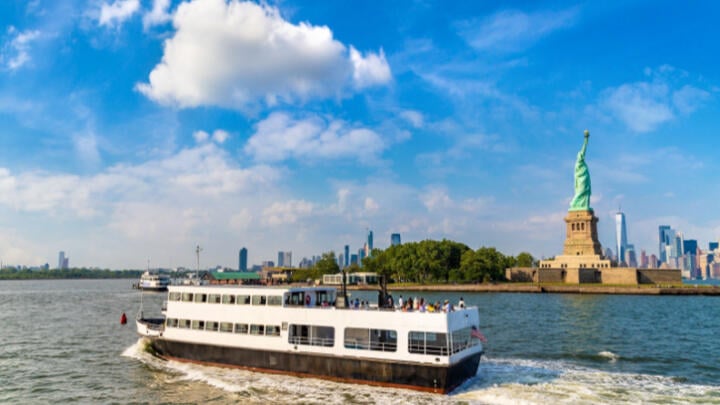 What is the Statue of Liberty Ferry?
As you may have gathered, it's a ferry that takes people between New York's mainland and Liberty Island, where the Statue of Liberty stands tall. 
From where does the Statue of Liberty Ferry depart? 
If you're traveling from New York, the departure point is in Battery Park:
Statue Cruises Kiosk, Battery Park
New York, NY 10004
The closest bus stop is Stop 12, 13, or 14 on the Downtown route.
The closest subway stop is Whitehall Street/South Ferry/Bowling Green.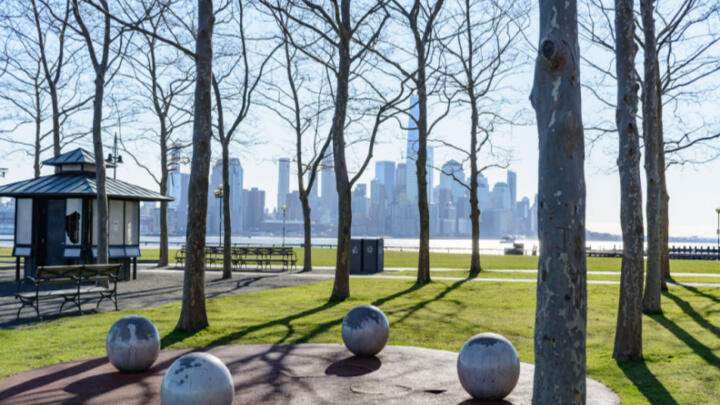 If you are traveling from New Jersey, the departure point is Liberty State Park:
1 Audrey Zapp Dr, Jersey City
NJ 07305
The closest stop is Liberty State Park Station on the HBLR.
How often does the ferry leave?
It's worth checking the official timetable to ensure your timings are up to date, but on average, the ferry departs from either port every 25 minutes.
How do I get a ticket? 
We've got you covered – Statue of Liberty and Ellis Island Ferry tickets are available with the below money-saving options, so you can choose the attraction pass that's right for you:
1. All-Inclusive Pass – All you can do. Your Attraction Pass includes admission to dozens of attractions.
2. Explorer Pass – Choose as you go. Your Explorer Pass includes admission to up to 10 attractions.
It's worth noting that, whichever way you decide to go, booking is required to get the ferry, and early booking is highly recommended because, as you may have guessed, it is an incredibly popular tourist destination!
The History of Ellis Island
Standing tall as a symbol of liberty and justice, the Statue of Liberty is an important part of America's history. 
The island itself is named after Samual Ellis, who owned the landmass before it was opened to the public. Ellis Island served as the primary entry point for immigration into the United States, so much so that a third of all Americans can trace their family tree to someone who landed on the island! But its job as an immigration entry point ended nearly 100 years ago, and it wasn't actually opened to the public until 1976.
Nowadays, it hosts countless tourists every year, who flock there from all over the world to explore one of the most iconic landmarks on the planet.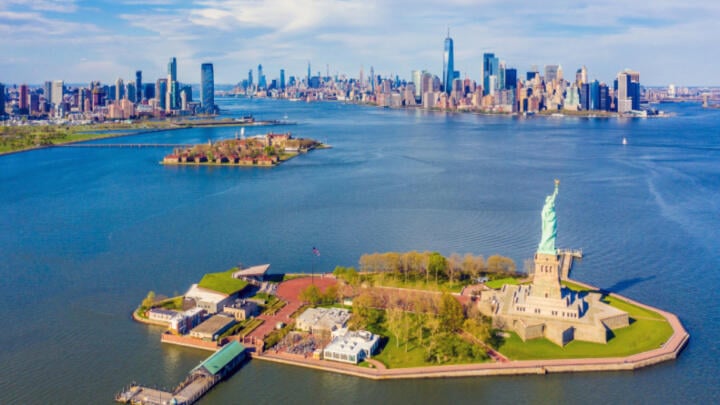 What to expect on Ellis Island
The Statue of Liberty
This one's a no-brainer. You wouldn't even be reading this if not for Lady Liberty herself! Yes, the Statue of Liberty now stands tall on Ellis Island. Visitors can walk around the National Monument and see the big girl up close - at least if they look up! 
Then, when you've enjoyed the view, so to speak, you can enter the Statue of Liberty Museum, which contains tons of amazing artifacts that detail the statue, and the island's, history in much greater detail than we ever could. See the original torch up close, touch a copper rendition of Lady Liberty's face, and explore interactive exhibits like a reimagining of the studio where the statue was first conceived.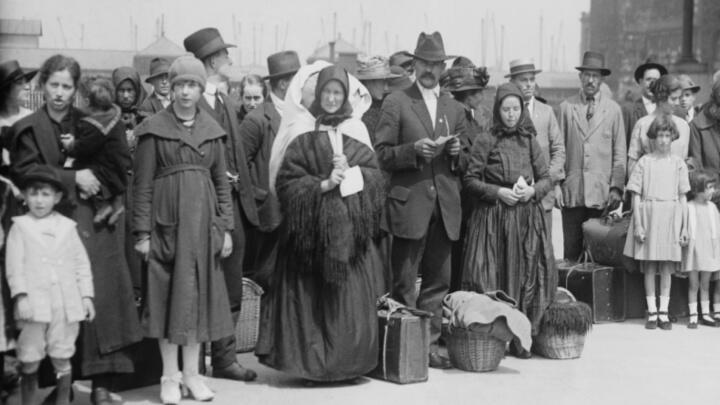 Then, head across to the Ellis Island Immigration Museum, where you can learn more about the island's importance in populating America. Through first-hand accounts, artifacts, and other exhibits, you'll piece together the island's rich history. Then, try tracing your family tree back to the island in one of the many databases you'll find. 
Then, when you've had your fill, simply hop back on the ferry and cross over to the mainland! 
From the views of the harbor and cityscape, to learning more about its history and standing in awe of this magnificent monument, a ferry ride to the Statue of Liberty provides an unbeatable experience full of wonder and amazement. With the accessibility for all, the convenience of booking your tickets ahead of time, and spectacular views from the crown of Lady Liberty that you won't find anywhere else, taking a ferry ride to this iconic landmark is an adventure like no other.
And that's our guide to taking the statue of liberty ferry, and what you'll find on Ellis Island! Don't miss out on this once-in-a-lifetime experience - book your ferry ticket today! Looking for more fun-filled adventures in the Big Apple? Check out our guide to The RIDE, your one-stop shop for every other New York landmark on your bucket list! Want to know what other attractions are covered with your pass? Check out all of them here!