For tourists in New York City who want to learn more about the events of 9/11 or pay their respects, you might be spending some time in the area and are looking for things to do near the World Trade Center--we've got you covered. In addition to visiting the site of 9/11, formerly known as 'Ground Zero,' there are lots of ways to learn about the events leading up to 9/11, the day of, and the aftermath, all right near the World Trade Center. Plus, plenty of non-9/11 related things to do as well. Check out everything from sailing and boating to sculptures and shopping. We've created a list of the top 9 things to do near the World Trade Center for tourists.
Free Entry with The New York Pass®
Free entry to many of these popular New York attractions and activities are included on The New York Pass®. Used by over 3.5 million travelers, the New York Pass is the ultimate sightseeing pass, which includes admission to 90+ attractions, Fast Track Entry at select attractions, a free guidebook, & much more. Learn more about the New York Pass benefits & how to save on attractions gate prices.
9/11 Tribute Museum
At the 9/11 Tribute Museum, tourists can connect with the community of victims who suffered directly during the attacks on the World Trade Center. Read personal stories from everyone from recovery workers and first responders to people who lost loved ones. This is a place to watch videos, read letters, and simply learn more about the loss that occurred in the lower Manhattan community during 9/11. It is an ideal way to begin your personal tour of the area surrounding the World Trade Center. Getting in: 9/11 Tribute Museum tickets are included with The New York Pass.
9/11 Memorial & Museum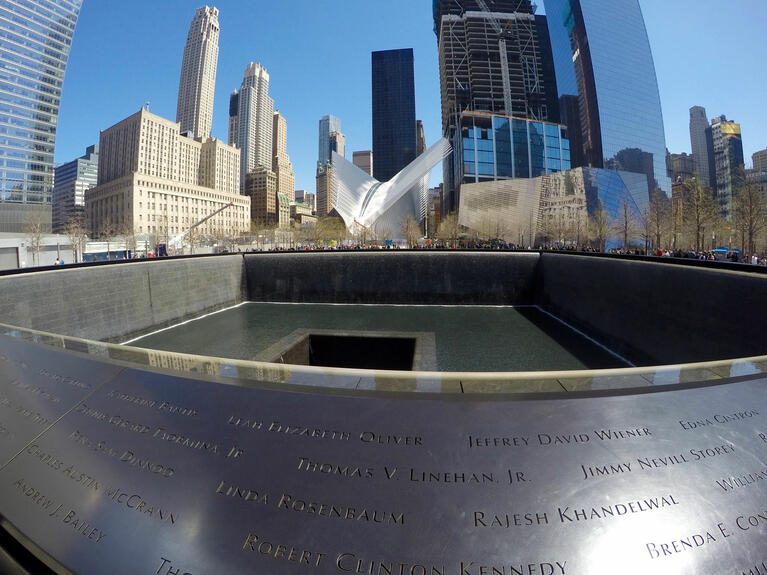 For a more in-depth look at 9/11, visit the National September 11 Memorial Museum. More than 110,000 square feet of space is dedicated to artifacts, displays, and archives depicting the 9/11 attacks. At the museum, the most notable display is part of a retaining wall that survived from a World Trade Center, which is now located in Foundation Hall. At the 9/11 Memorial, you can read the names of everyone who perished due to the terrorist attacks. Getting in: 9/11 Memorial & Museum tickets are included with The New York Pass.
One World Observatory
After spending time in remembrance of 9/11, it's time to elevate your mood—quite literally. At the One World Observatory, located within the One World Trade Center, you'll get sky-high views of Manhattan. This is the tallest building in all of the Western Hemisphere, and tourists can see views from the observation deck. Ride the SkyPod elevator all the way to its zenith where you are greeted by three floors of exhibits, restaurants, and sightseeing opportunities of the entire NYC expanse. Getting in: One World Observatory tickets are not included with The New York Pass but can be purchased separately.
Shearwater Classic Schooner Cruise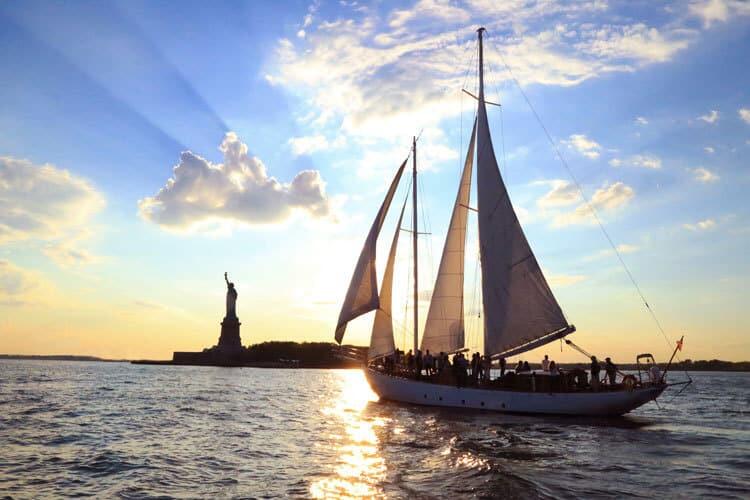 Set sail on the famous 1929 Shearwater Classic Schooner boat and enjoy a relaxing cruise in New York Harbor, complete with amazing views of the Manhattan skyline and the iconic Statue of Liberty. This hour-and-a-half long cruise gives you plenty of time to unwind and reflect on your day of touring the city. Getting in: Shearwater Classic Schooner Cruise tickets are included on The New York Pass.
Manhattan Waterfront Greenway
Now it's time to regain your land legs with a stroll along the famous NYC Greenway better known as the Manhattan Waterfront Greenway. This expansive city park features bicycle rentals for tourists, as well as green spaces for nature walks and picnic opportunities. Highlights at the park include the Grecian Temple, Little Red Lighthouse, and the Battery within view of Ellis Island and the Statue of Liberty. The Hudson River Park and Stuyvesant Cove are equally impressive for nature lovers. Getting in: Manhattan Waterfront Greenway is free and open to the public.
Brookfield Place
Located within the World Financial Center, Brookfield Place is a high-end shopping mall in the heart of Lower Manhattan. It's located near the 9/11 Tribute and 9/11 Museum & Memorial. In addition to window browsing, you can explore a number of amenities at Brookfield. There is seasonal ice skating at The Rink and workout sessions at Equinox. Brookfield Place is also home to dozens of fabulous dining opportunities. Juice Press, Blue Ribbon Sushi Bar, tapas at Amada, and the French market at Le District are just a few of the nosh spots for grabbing a bite. Getting in: Brookfield Place is free and open to the public (the shopping, however, is not).
Silverstein Family Park
To walk off all of those calories you've just eaten at Brookfield, check out Silverstein Family Park. This urban refuge is located at the base of 7 World Trade Center. The most iconic image you'll see here is a massive red sculpture resembling a balloon shaped into a flower surrounded by water fountains. This iconic Jeff Koons work of art adds to the tranquility of the 5,000 square feet of open plaza nestled with trees and greenery. It is a perfect place to rest your weary tourist feet after a long day. Getting in: Silverstein Family Park is free and open to the public.
St. Paul's Chapel
If you are looking to feel inspired, just add St. Paul's Chapel, also known as Trinity Church, to your list of places to see in NYC near the World Trade Center. This chapel, built in 1766, was once used by George Washington for prayers. However, the real reason it is such a wondrous site is that of its location. The chapel sits across the street from one of the World Trade Center towers. Yet on 9/11 , the chapel received no damage, not even a cracked window. St. Paul's served exhausted firefighters as a place of rest and refuge. Visitors are welcomed in this historic and awe-inspiring chapel today. Getting in: St. Paul's Chapel is open to the public, check their calendar of events and plan your trip accordingly.
Red Cube
As you round out your tour near the World Trade Center, it's time to take a selfie. What better place to do this than the Red Cube? Situated in Zuchotti Park, the Red Cube is one of the most famous sculptures in Manhattan. Built in 1968 by artist Isamu Noguchi, the cube sits positioned on one corner. More notably, it features a hole through the center that offers the perfect frame for any tourist's photo. In addition, the surrounding park is regularly the host of food trucks, so it's a great place to relax and enjoy the vibrant flavors of New York City. Getting in: the Red Cube is free and open to the public.
Remember To Save On Attraction Admission
Lots of the fun things to do near the World Trade Center (and beyond) are included on The New York Pass. Whether you're interested in sightseeing, taking a tour or enjoying art at a museum, an NYC sightseeing vacation is easy to plan with The New York Pass. If you plan on visiting multiple attractions, consider using the New York Pass which grants you free entry to over 90 attractions in New York City. That way you can do more when you sightsee and make the most of your time in New York City. For more information on the New York Pass, click here.