With its larger-than-life billboards, scrolling ads, flashing lights, and bustling crowds, it's no wonder Times Square is one the top attractions in NYC. 
Times Square is a great place to start your trip to New York City. There's a ton of fun things to do in Times Square, so right off the bat, you'll get to see some of the city's most popular attractions.
Be sure to take a souvenir photo right in the heart of Times Square with the flashing billboards and advertisements in the background – you might just have to wait for a crowd to pass to get a good shot. As such a busy hive of city action, Times Square a popular spot for street performers to set up shop as well, so you'll get to see some of the most talented performers while you're there, too.
There's no shortage of things to do in Times Square, and these top attractions on your New York Pass should be top of your bucket list!
Big Bus Tours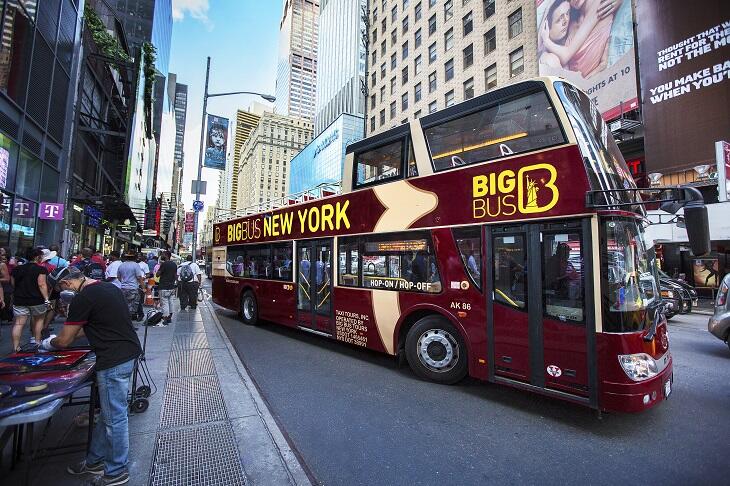 A hop-on hop-off bus tour is one of the best things to do when you arrive in New York City. Start your city tour in Times Square and get a professionally-narrated overview of all of Manhattan.
Stay on for the whole tour and hop back off in Times Square to explore the area more or hop off at another location you want to explore more.
Your onboard tour guide will direct your attention to lots of top landmarks you'll see along the way, including the Empire State Building, Chinatown, the Broadway Theatre District, and more, depending on which route you take from Times Square.
Madame Tussauds
The world-famous wax museum chain is one of the most popular things to do in Times Square - it's a must-see and the only way to guarantee a "celebrity sighting" in the city!
Pose with all your favorite TV and movie characters, sports heroes, superheroes, musicians, and more – all under one roof. Walk through themed rooms and check out some of their featured exhibits, too, including King Kong, Ghostbusters, MARVEL Super Heroes 4D, and more.
In addition to seeing some of your favorite celebrities, you'll gain a new appreciation for the labor-intense artistry and skill that it takes to create these lifelike wax figures.
The Ride
See the streets of New York City transform into multiple stages on this entertaining and interactive moving theater experience.
Sit back as your two comedian hosts narrate your bus ride and take you to see several street performances around the city. You'll have unobstructed views from the custom bus design's stadium-style, sideways-facing seats that offer panoramic views of the streets below through the bus' large windows.
Tip: be sure to arrive early as tickets are offered on a first-come, first-serve basis and often sell out.