The RIDE is a new way to see New York. This theatrical experience puts a twist on the age-old bus tour format thanks to the hilarious commentary of two comedic hosts, the stadium-style seating on the bus providing you with 360 degrees of amazing views, and even the chance for a spot of impromptu karaoke!
And, of course, you'll have the chance to see all the biggest landmarks that New York has to offer, and with the unrivaled freedom courtesy of floor-to-ceiling windows inside the vehicle, your phone better have enough memory for the countless snaps you'll be taking!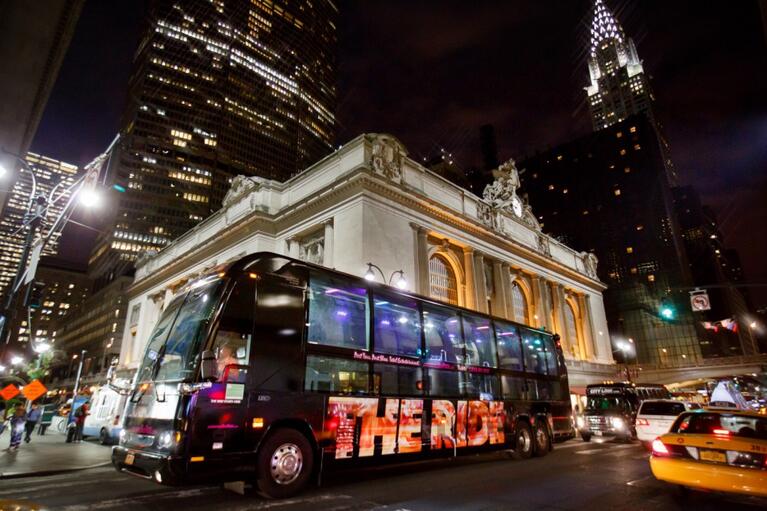 How to get The RIDE discount tickets? 
We've got you covered – The RIDE admission is available with the below money-saving options, so you can choose the attraction pass that's right for you:
1. All-Inclusive Pass – All you can do. Includes admission to dozens of attractions.
2. Explorer Pass – Choose as you go. Includes admission of up to 10 attractions.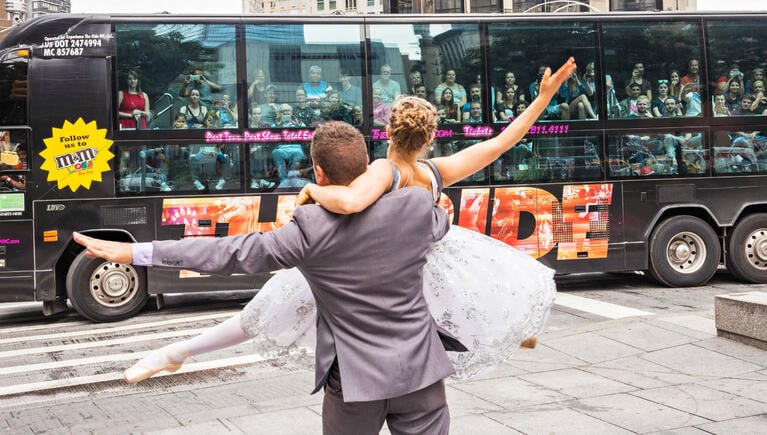 Tips for riding The RIDE
As one of the newest, hottest attractions in New York, The RIDE is incredibly popular. As such, we recommend you book it far in advance of your trip - we wouldn't want you to miss out!
You'll be spending around 75 minutes on your ride sitting down. So, be sure to wear something you're comfortable sitting in for that long! Perhaps leave those high-waisted jeans at home...
Make sure to pack a camera with plenty of film, or make sure you've got enough space on your phone - you'll be taking lots and lots of photos, and you won't want to miss any of the surprising sights and sounds you'll see!
When is the best time to experience The RIDE?
Since you're in a sealed vehicle, really you can check out The RIDE at any time of year! However, you're likely to see more activity going on outside the bus when the weather's good, so think about hopping on from the beginning of spring to the end of summer. 
What is there to see and do on The RIDE?
Take your seat on the three-tiered, stadium-like bus seats, and buckle up for a ride you'll never forget. Listen to the guides as they weave hilarious tales of Big Apple Hijinks, look on as you see street performers strutting their stuff, and snap pics of all the biggest highlights of New York's skyline.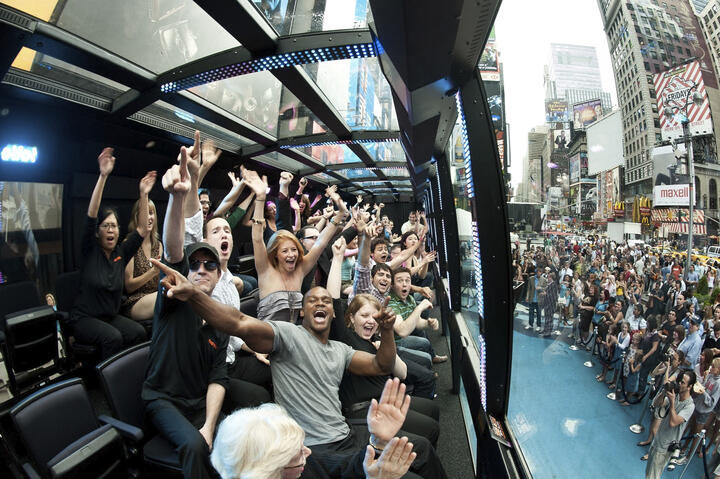 The RIDE highlights
Be on the lookout for New York's most iconic landmarks, such as Times Square, the Chrysler Building, the Empire State Building, Central Park, Carnegie Hall, and many more!
Enjoy 360-degree views of the city thanks to the floor-to-ceiling windows across the whole of the bus. 
Split your sides thanks to the hilarious running commentary provided by your two comedic guides.
See all the city's hotspots in under 2 hours.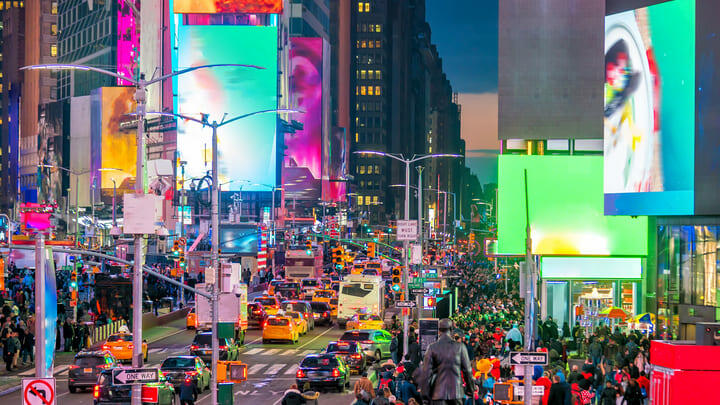 What attractions are near The RIDE?
The famous Times Square is right around the corner, if your RIDE by gave you the itch to see more.
You'll also find Madame Tussauds and the MOMA a stone's throw from the pick up point. 
Where is there to eat nearby?
If you're in the mood for an authentic New York slice, Pizza 42 is right across the street.
For fast food lovers, there's an Applebee's, Dave & Busters, Chick-fil-A, and Mcdonald's a short walk from the pick up point. 
If you're in the market for something heartier, you're in New York! Go explore and see what you find!
Need to Know
For the full schedule of operation for The RIDE, visit their website here.
Tours will be canceled for severe weather or mechanical issues.
Directions and Address
Departs from 259 West 42nd Street near 8th Avenue. 
New York, NY 10036
United States
Closest Subway Stops
A, C, E, or S trains to Port Authority/42nd Street; 1, 2, 3, N, R, Q, or 7 trains to Times Square/42nd Street.
Save on Tickets with a pass
Remember, Go City is the best choice for maximum savings and flexibility, which can include The RIDE tickets, plus admission to your choice of other top attractions. You'll make great savings on entry to top museums, tours, and activities vs. paying at the gate. Visit multiple attractions for one low price.